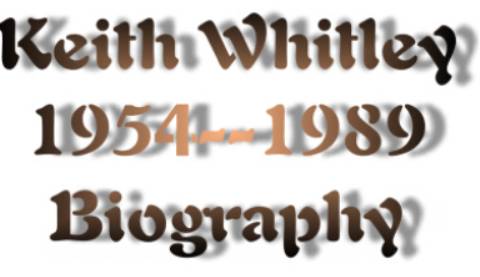 He wasn't an imposing figure -- just a wiry kid from Kentucky with the music of country idols like Lefty Frizzell and Ralph Stanley rolling around in his head. He wasn't terribly prolific --he recorded enough material to fill roughly five solo albums before he died too young in 1989. But Keith Whitley shows every sign of becoming one of the most influential country stars of modern times. A generation of stylists too young to remember Lefty Frizzell has seized upon Whitley's music, sat spellbound by his records and stood in awe of his talent. Garth Brooks, Tracy Lawrence, Alan Jackson and many lesser lights openly acknowledge his influence, citing him alongside such legends as Merle Haggard and George Jones. Jackson sang with an old Keith Whitley tape on his 1993 Christmas album. Suzy Bogguss and Lee Greenwood scored a top-ten hit in 1991 with the Whitley composition "Hopelessly Yours." Newcomer Kenny Chesney has revived Whitley's "I Want My Rib Back." Ken Mellons salutes Whitley in his 1994 tune "Honky Tonk Teachers." Kathy Mattea included the late songwriter's "There's a New Kid In Town" on her Grammy Award-winning Christmas album of 1993. Keith's widow Lorrie Morgan won a 1990 CMA Award for their duet " 'Til A Tea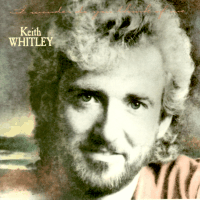 r (becomes a rose)" and honored his memory with her 1994 single "If You Came Back From Heaven." "Keith and I went through some hard times," Lorrie recalls, "but as far as him being The One, yeah, I think that we would have lasted forever. One day...I got real sad and sentimental about Keith, and I said, 'God, I wish he was still here,'...I can't help but think about Keith whenever I sing " A Picture of Me (without you)" This man touched my life." Country sensation Tim McGraw says he owes it all to Keith Whitley: "I remember hearing "Miami My Amy" when I was a junior in high school. I stopped and thought, 'Man, this is the way it is supposed to be done. That is what I want to sing.' I don't think it gets any better than Keith Whitley. I had all his records, just loved his voice. He was a big, big influence. I moved to Nashville the day Keith Whitley died."That day was May 9, 1989. Whitley died at home of an accidental alcohol overdose. The country music world was stunned. Lorrie was devastated. The day after his death, the lamp posts and trees along Music Row were draped with black ribbons. The RCA Records office, the Grand Ole Opry cast, the staff at Tree Publishing and thousands of fans went into mourning. Few entertainers have been as widely loved. Fewer still were as awesomely gifted. "I have never done anything in my life but sing," Keith said. "I can't remember not playing and singing...I always wanted to be a country singer; and I always knew I couldn't be satisfied doing anything else." So from childhood on, sing he did. Born in the Kentucky Appalachians (Sandy Hook,KY)in 1954, Jackie Keith Whitley was singing Marty Robbins and George Jones songs in local shows by age 4, playing guitar by age 6, entertaining on West Virginia radio by age 8 and performing in a bluegrass duet act with his older brother Dwight by age 13.
The Whitley Brothers met fellow Kentuckian Ricky Skaggs at a fiddle contest in 1969. Keith and Ricky shared an enormous enthusiasm for the music of The Stanley Brothers. Within a week, the two 14-years-olds were harmonizing together. They were 15 when Ralph Stanley discovered them and hired them for his Clinch Mountain Boys band. Skaggs and Whitley toured with Stanley's group during the Bluegrass festival months in 1970, 1971, and 1972. The youngsters recorded eight albums with Stanley, including Cry From The Cross, hailed as bluegrass music's Album of the Year in 1971. Another collection, 2nd Generation Bluegrass (1971), was a duet LP that marked both teens' first star billing as recording artists. They left Stanley's band a year or so later, but Whitley returned to record five additional LPs with the bluegrass legend in 1975-77. Keith Whitley came into his own as the lead singer of J.D. Crowe's band The New South in 1979-82. Three albums (now available on C.D.) he made with that group made Nashville sit up and take notice -- My Home Ain't In The Hall Of Fame, Live in Japan and Somewhere Between. Crowe remembers that Whitley's sudden binges with alcohol were already a problem by the time the singer was in his early 20's. But success seemed to agree with Keith. When he entered the spotlight in Music City, his demon appeared to be under control. He arrived in January 1983 and soon gathered a strong group of supporters around him. He was signed as a songwriter by Tree, to management by Jack McFadden and as a recording artist by RCA in 1984. "He was one of the best singers I've ever heard in my life," says Norro Wilson, who brought him to RCA and produced him. "There was no better." Whitley's star began to rise with the 1985 hit "Miami My Amy," and continued with top-10 records produced by Blake Mevis. His natural charm made him a magnet for friendships and musical collaborations. Whitley did hilarious imitations of country's superstars, which invariably delighted audiences. His skills as a songwriter made him a favorite collaborator with Kix Brooks, Curly Putman, Don Cook and other Tree tunesmiths. He married Lorrie Morgan in 1986 and they had a son (Jesse Keith Whitley) in 1987. His music gained immense power when producer Garth Fundis realized that Whitley's finest vocals were done "live" with the musicians in the studio. As a result of Fundis' vision, Keith shot to superstardom in 1988 with " Don't Close Youe Eyes," the nation's No. 1 country hit of the year, as well as a second chart-topping smash, "When You Say Nothing At All." In 1989 he had his third consecutive No. 1 hit, " I'm no stranger to the rain"."Following his death, "I Wonder Do You Think Of Me" and "It aint Nothin'" became his fourth and fifth No. 1 singles. Then " I'm Over You" and the award-winning "'Til A Tear Becomes A Rose" duet with Lorrie hit the top-10 in 1990. "Brotherly Love," a duet with Earl Thomas Conley , and the solo "Somebody's Doin' Me Right" became 1991 hits.Two posthumous albums, I Wonder Do You Think Of Me and Kentucky Bluebird, plus two "best-of" collections have also kept his memory alive.
Three of his albums are million-sellers.
In death, his music continues to attract great talents. In 1994, with Lorrie's blessing, top stars such as Alan Jackson, Tracy Lawrence, Joe Diffie, Mark Chesnutt, Alison Krauss and Diamond Rio redid Keith Whitley hits. Newcomer Daron Norwood added a song written in his hero's honor. Ricky Skaggs and Shenandoah offered a bluegrass salute. More than a dozen others participated in a tribute "event" song titled " A Voice Still Rings True." Four previously unreleased Whitley vocals were unearthed and a previously un-released duet with Lorrie Morgan called " I Just Want You" The result is Keith Whitley: A Tribute Album. Produced by Randy Scruggs and Blake Mevis, it is eloquent testimony that great musicians never really die. They are as immortal as love and poetry. Since then, R.C.A. has released THE ESSENTIAL KEITH WHITLEY. All songs digitally remastered, and features Keiths mini-album "HARD ACT TO FOLLOW" for the first time on C.D. Also released is... KEITH WHITLEY: SUPER HITS. There is also a specially priced cd and cassette titled KEITH WHITLEY REMEMBERED, which features previously released songs. The last "studio" released album of un-released material was called "Wherever You Are Tonight". It features Demos that vocals of Keith were lifted off onto new music recording. Although there was great songs on this release, the album was very under and over produced. There are still many un-released DEMOs of KEITH that remains to be heard, and many live recordings. With the fans help, maybe we can all talk (e-mail) R.C.A. into releasing a BOX SET of what is left. Keith Whitley may be gone, but his music and memory will never die. He is gaining new fans everyday.
Discography:
L.A To Miami

Greatest Hits
Released: 07/17/1990


Tribute album
Released: 1994

Wherever You are tonight
Released: 10/24/1995


Don't Close Your Eyes
Released: 10/25/1990


The Essental Keith Whitley
Released: 06/18/1996


I Wonder Do you Think of Me
Released: 07/26/1989

Second Generation
Bluegrass
Released: 1995

Image Not available

Hard Act to Follow
Released:1984


Tribute to the
StanleyBrothers
Released:1971

Image not available.

Super Hits
Released:1996

Kentucky Bluebird
Released: 1991


SoundTracks:

Switchback (Oct. 1997
Track:
Turn Me to Love
Awards won:

TNN/Music City News Vocal Collaboration of the Year 1991
CMA Vocal Event of the Year 1990
CMA Single of the Year 1989
Timeline:
1954-- Jackie Keith Whitley was born in Sandy Hook Kentucky to proud parents Faye and Elmer Whitley.
1963-- Keith Makes is debut singing on local radio station (part of this show is contained on Keith's Kentucky Bluebird album)
1969-- Keith's meets Ricky Skaggs and forms bluegrass group with him and his father.
1970-- Ralph Stanley asks Keith to join his traveling band and Keith agrees and sets off to play bluegrass with the DR.
1972-- Keith and Ricky Skaggs has local bluegrass radio show (part of this can be heard also on Ky. bluebird album.)
1979--Keith's marries his first wife Kathi. Kathi now works with Jack Ingram and many others.
| | |
| --- | --- |
| | Keith and Kathi's wedding |
1983-- Kathi and Keith move to Nashville with hopes of startdom.
1984-- Keith's gets signed to RCA and releases "A Hard Act To Follow" but only produces a number of unsuccessful singles (e.x Turn Me To Love, Don't our love look natural.)
1985-- Kathi and Keith go their ways and "I've got the heart for you" single was released.
1986-- Keith married country singer Lorrie Morgan and releases first full length LP. L.A To Miami.Big hit with My amy, miami
1987-- Keith's son with Lorrie is born, Jesse Keith Whitley was born June 15. Don't Close your eyes LP releases and goes right to number one.
1989-- The tragic day Keith faded to heaven. Keith Whitley dies of alcoholism on May 9 at the age of 34. I wonder do you think of me album released
1990-- Keith's greatest hit's album released and the memorial motorcycle ride is started in his and his brother, Randy's memory.
1999-- 10 years after Keith's dath and yet people are still drawn to this magical voice and the magical memory of him.